The Sony HX50 is the manufacturer's latest long-zoom travel compact, and it's follows on from a long line of Cyber-shot models of a similar type.
Sony's first foray into the format didn't come until 2007, with the launch of the DSC-H3, which featured a high-quality 10x zoom Carl Zeiss lens. The H-series has been part of Sony's range ever since, and has now culminated in the HX50, which features a lens with 30x optical zoom, equivalent to 24-720mm, currently the longest zoom range on any pocket-sized compact camera.
In fact there are only a small handful of large bridge cameras that have greater zoom capability, including Sony's own HX300. Is the HX50 just about the zoom, or is it in fact a more complete imaging proposition?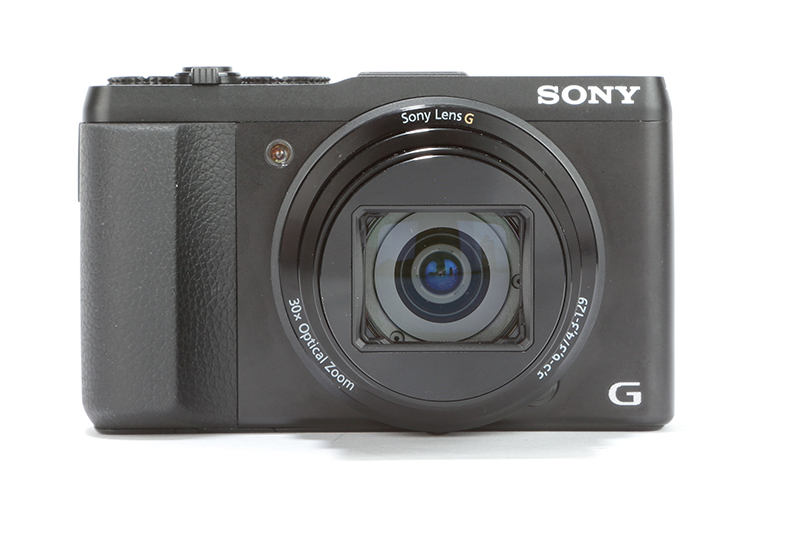 Sony HX50 Review – Features
The Sony HX50′s key feature is this remarkable lens, and it's certainly an impressive bit of kit. It bears Sony's G series label, used on its high-end products. Its actual focal length is 4.3 – 129mm, with a maximum aperture of f/3.5 – 6.3.
At full extension it protrudes 60mm, but retracts back into a bezel that protrudes just 10mm from the camera body. Considering that the whole camera is just 38.4mm thick including that bezel it represents a remarkable feat of optical engineering.
Naturally fitting such a monster lens to a compact camera such as the Sony HX50 is not without its problems, and as we'll see when we come to look at the camera's overall performance the sheer time it takes to roll in and out is significant. More importantly, and a problem which dogs most super-zoom cameras, holding 720mm-equivalent lens still enough to take a sharp picture is nearly impossible.
As usual Sony has come up with a few technological solutions to try and make it work, but has only been partially successful. We'll take a look at those results later.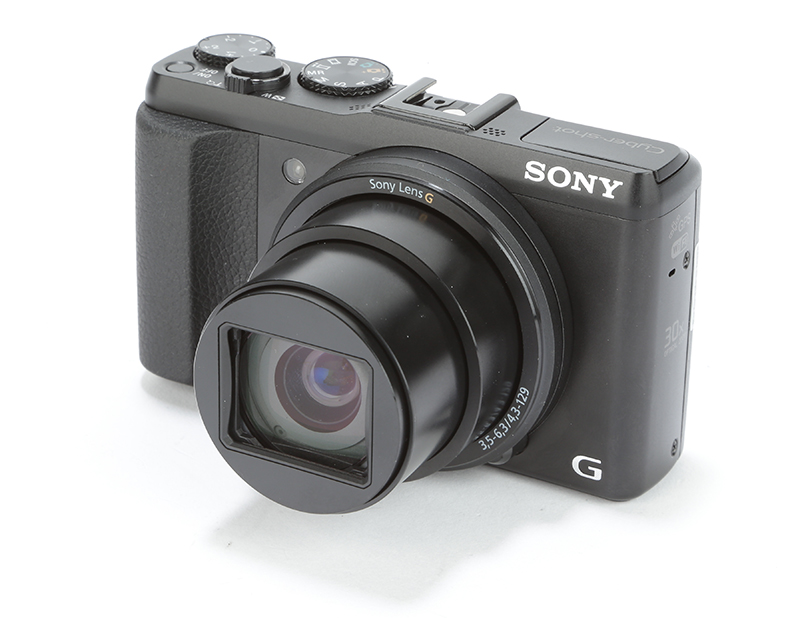 Sensor
The Sony HX50 is equipped with a 20.4 megapixel Exmor R CMOS sensor, but unlike real high-end cameras it's only of the smaller 1/2.3in size. Using a larger 1/1.7in sensor would have reduced the effective magnification of the lens, so it's a bit of a swings-or-roundabouts situation, but cramming such a high resolution onto such a small sensor causes its own set of problems.
Other noteworthy features include a multi-accessory shoe that can be used to attach an external flash, electronic viewfinder or stereo microphone, however in typical Sony fashion the shoe is a unique proprietary design so your existing third-party flashgun won't work. Only a Sony flashgun designed for this interface will fit, which means shelling out £130 for a HVL-F20M, or £550 for a HVL-F60M. Other Sony Alpha system flashguns will work, but only if you buy a £25 adapter. The FDA-EV1MK electronic viewfinder is also a pricey add-on, currently around £380.
The HX50 is the latest in a growing number of digital cameras that included Wi-Fi connectivity with both a networked PC and with a smartphone or tablet, via an app that can be downloaded from Google Play for Android or the App Store for iOS devices.
It included all the usual functionality, such as instant sharing and backup of captured images, and remote camera operation, as long as you are within Wi-Fi range. Both the app and the supplied PC software (Sony PlayMemories Home 2.0) are more complicated than they need to be, and don't really provide much in the way or picture editing control.
Sony Cyber-shot HX50 Review